Monday October 5th, 2015 12:07 pm
Some ugly wins... but a win is a win.
Relics: the The night started with the Lincoln Stars off to a huge start which seemed that they were on their way to winning their first win of the season... by leading 3-0 and 4-1 against the powerhouse Fargo Force. By the Force was not with them as Fargo kicked it into 2nd, and then 3rd gear to tie it up an eventually winning in overtime 6-5. Ouch.
Lincoln did get a point, so I guess thats a good thing.

The second game saw just as exciting match between unbeaton Madison capitals and the Tri-City Storm. Game ended in a tie 2-2, but Madison won the shootout and still remains unbeaton at 3-0.

Leading scorers on the day:
Tom House of Fargo
Kevin Mackin of Fargo
Paul Flagg of Fargo
Jim Kundicz of Lincoln
Mike White of Lincoln
Teddy Bohld of Lincoln
Fargo and Madison still remain top dogs and undefeated at 3-0 each.
The Legends, well, that's another story...
3 games last night: Saints squeeked by the Whalers 3-2. Good buy Miicky V. scored as did Papa Roach for the winning Saints... hmmm, Roachiy seems to be able to put it in the net for his homeys, but not for his girlfriends in the Relics???? What gives?
Second game saw the unbeaten Toros just got by the Sharks 1-0. Kind of a boring game except that it did get a bit physiucal... Fire Marshall Bill picked up a penalty as did Red Bull. Boys will be boys.
The final game saw a lot more action as the men in purple, Crusaders, killed the Stingers 5-0. Where was Beeber? Is the Beebs soon to retire? Is there another team he "wants" to transfer to? What gives here as well?
Wow.
Gotta as Flower boy what is going on... perhaps he has the beebs on double secret probation and is waiting for the playoffs to unleash him? Might be too late to put the big boy pants back on....
Monday September 28th, 2015 11:07 am
Relics Update... True Colors starting to show (and we are not talking Fall Foliage)
Yup, the new and improved Whalers, I mean, Fargo Force came to play while the Lincoln Stars did not. Force dominated this one 6-3. And It wasn't even that close. Conny & company shifted it into high gear and they skated circles around the older, yet better looking, Stars. And it looks as though Nason in net is getting his groove back as well.
Oh well, there is always next week. Oh wait, these two match up again... oh oh.
Good to see the line of Chaz and Fribble-boy back in the groove.
The other match also fits into the True Color scheme as the Madison Capitals beat up on the Tri-City Storm 2-0. This one was a bit closer, but as the score shows... it really wasn't close at all.

Wednesday September 23rd, 2015 2:35 pm
Blast From the Past:
Heres a photo we republish to reminise about the successes of STP: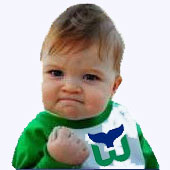 Chaz as a kid, circa 1924 ... and Chaz 2015

M
onday September 21st, 2015 11:38 am
Week 2 in both leagues really didn't provide any surprises... wait till next week!
The Relics saw Madison and Fargo skate to a 2-2 tie. Very clean game, very slow play. Well, it it the Relics after all.
Conny continues to light up the league with another point.... no surprise here.
Tri-City handed Lincoln their 2nd strait loss, defeating them 3-2 in a very close game. We did see some acrobatics here as Captain O took a couple of circus dives to draw penalties... go figure...
No Twin #2 as he held out to host a Pats game... where was our invites? We shall see where he plays next weekend... perhaps on defense as a penalty.
Twin #1 played pretty good in his absence.

in the Legends, Beeber got shut out again... no surprise here as he continues his role to be a bust.
The Whalers win a close battle over the winless Stingers 3-2.
The Saints shut down the Sharks 4-1 in a shocking surprise game. Good to see Relics wannabe Papa Roach roof one in the win. Why couldn't he do this in the hour before? Who knows.
Lastly, the Toros spanked the Crusaders 5-3 in what continues to be a struggle for the purple men as they have yet to post a win in the early season.
Whalers and Toros continue to be undefeated while the Stingers and Crusader are 0-2. No surprises here.
More later as I need my nap.
Thursday September 17th 2015 6:46 pm
Some anonymous observations from opening night...

Relics Division Scouts in attendance couldn't help but notice that Big Frank and Counselor Graham on the Saints should have the Relics personnel guy on speed dial, same for Al on the Crusaders. C'mon Al admit it you were a Relic before the league was formed. O.K. you can take Buckley with you.

From the inaugural game in the Classic Division it was observed that Staff will have to by pass the Legends and report directly to the Relics.

FMB reported in that "Brady didn't deflate any footballs and FMB didn't hook anyone" not his fault some people can not count!!

D.A. Cruz holding a press conference in Marshfield explaining they are looking at neighbors security footage and possible eyewitness accounts. the general public believes he is talking about a recent crime that occurred in Marshfield but we in the know realize he was discussing his missing hockey sticks that some perpetrator took home on Sunday night leaving the D.A with no sticks for his game.
Monday September14th 2015 12 pm
We are PROUD to be back behind the keyboard after a long, long time.
We have a lot to catch up on.. (Artie - the images on the right are for you!)
First off, great to see the Relics Hockey League up and running. Seems like EJ and Papa Roche have taken this ball and ran with it... well, it was kinda handed off nicely by the King and Fire Marshall Bill.
The first week of the Relics season saw the Lincoln Stars losing badly to the Madison Capitals... 5-3. It really wasn't that close. The defense sucked and the goalie wasn't much better. Although I threw that in there to make the defense sound like they weren't that bad... they were.
The Capitals were hopping! They got out to a quick 2 goal lead and dispite the Stars tying it up a couple of times, the Caps just kept the pressure and ran away with the win. Kuddos to Captain Murph for putting on a good game plan... pick on the fat white defensemen.
In the 2nd game, the stacked Fargo Force barely won 3-2 over the Cops, I mean Tri-City Storm. Vegas has the Force in a run-a-way for this season and it showed last night. They looked good, but the badged men of Tri-City kept things very close.
Good to see Danny Boy back on the ice after a 2 year absence.
Words of note in both games...
Good to see BOTH Twins still MISSING THE NET! Although Artie (twin #2) continues to be the all time leader.

Oh, and new guy Dan (nickname to come later) is not far behind Artie. He sux.

Good to see Chaz Bono score the first goal in the 2nd game ON A PENALTY SHOOTOUT! Go figure. Chaz is one of those guys who doesn't look like he is trying... but he seems to always get in the box score and be a serious contributor.

Big John is off his softball kick and made his 2015 debut... looking very good.

Captain O was in attendance... he still sux too.
In the other (Classics) League...
There were bets on who would end up with the Beebs this season... and JC won $3. Rumor had him staying with the Crusaders, but possibly the Saints, only to end up with the Stingers. Jeez, this creep has had more uniform changes than JC!
Seems like last minute trade deadline came and went without any other teams participating... too bad Flower Child got stuck.
Next bet? What is the Over/Under in number of games he will last on his current team. He's gotta look great in Mellow Yellow. (Hey, what an oxymoron... Beebs as Mellow.... better yet, beebs as a moron).
Did we also notice that Beeber got shut out as well? Yup, in his debut, the Stinger were shut out 2-0 by the Sharks/Mantas/Kings team.
I also could not help but notice that Hacksaw Pete picked up 2 penalties.... geez.
Can't go without mentioning that FMB picked up a hooking call.... he claims it was too many men on the ice.
Ok Bill, thats fine.
The other games in the night, the Whalers spanked the Beeber-less Crusaders 6-2. Blah, blah, blah... Whalers are going to beat up everyone this season. Crusaders?, well, they aren't gonna win anything but at least they got rid of the cancer on the team.... now its someone elses issue!
The final game saw the Saints lose to the Toros 3-1. Is this the end of the (S)Aints? Will Papa Roche give in to father time and realize that the Relics is calling? Not sure. Flounder might be right behind him... Franky are you listening?